W

ild and unspoiled, Iceland's spectacular landscapes are full of unexpected juxtapositions. Known as the 'Land of Fire and Ice' for good reason – ice caves, glaciers and thermal pools contrast vividly with volcanoes (some of which are still active!), lava fields and dramatic black sand beaches. As if lifted from a fantasy film, this spectacular Nordic island is a treasure trove of natural wonders that needs to be experienced at least once in a lifetime.

Read on to find out the top ten experiences and sights that are an absolute must on any Iceland itinerary.

1. Seek out the Northern Lights 
It wouldn't be a proper trip to Iceland without seeing the Northern Lights, the most incredible (and natural!) light show in the world. The best months to see the Aurora Borealis are between September to March and can be seen most clearly from the Jokulsarlon Glacier Lagoon, the Seltjarnarnes Peninsula or Oskjuhlid Hill, in areas outside of the city with less light pollution.
2. Soak in the Blue Lagoon
The world-famous Blue Lagoon is an enchanting geothermal pool in the middle of a rugged, black lava field. Distinctively milky-blue in colour, these mineral-rich waters are stress relieving and soothing on the skin. Visited by the likes of Bjork, Beyonce and Kanye West – you might even end up rubbing shoulders with some A-listers mid mud-mask!
3. Hike to the Top of Skogafoss Waterfall
According to ancient legend, a Viking left a chest of gold at the very bottom of Skogafoss Waterfall, with many trying and failing to retrieve it over the years. Nowadays, the real treasure worth seeking is the view! The stairs next to the waterfall lead to the best vantage point to witness south Iceland's beautifully rugged coastline. On sunny days, a single or double rainbow is even visible in front of the waterfall, just adding to the magic.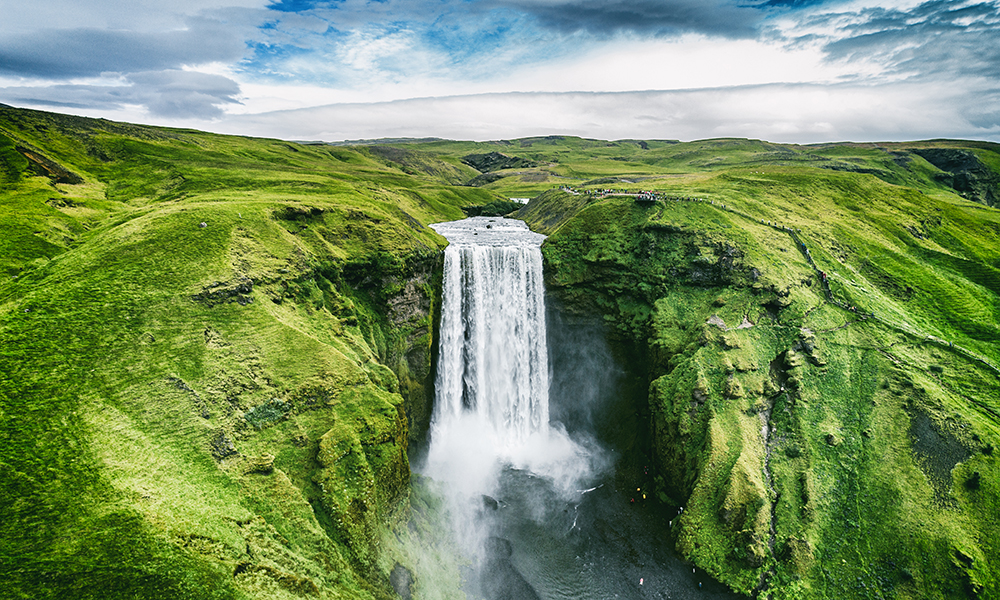 4. Admire Imposing Volcanoes
Home to 130 volcanoes (32 of which are active!), there are some challenging (and extremely rewarding) hikes to be enjoyed through the otherworldly lava fields of dormant volcanoes. Believe it or not, these volcanoes produce glaciers as well as thermal pools which heat 85% of Iceland's housing through geothermal energy. With a volcanic eruption occurring every four years on average, Iceland truly lives up to its name as the Land of Fire and Ice.
5. Frolic on a Black Sand Beach
Look familiar? Black sand beaches in Iceland played an iconic backdrop to the 2007 fantasy flick Stardust. A rare phenomenon, the sand gets its unique colour from ash, lava fragments and minerals left behind by Iceland's volcanoes. Black Diamond Beach even features gigantic chunks of ice that glow an ethereal blue colour. Talk about Instagram-worthy content!
6. Spend Time in Reykjavik
One of the cleanest and greenest cities in the world, Reykjavik's name directly translates to 'Smoky Bay' in an ode to the geothermal steam rising from the vents all over the city. Overflowing with immersive galleries, museums and world-class restaurants, be sure to sample some traditional meals like Hákarl, dried shark meat, or smoked puffin heart, for the full Icelandic experience. Be sure to pop in for a drink at one of the sub-zero bars, made entirely out of ice!
7. Drive the Golden Circle
You won't regret dedicating a half-day to driving the 300km Golden Circle route and stopping in at Thingvellir National Park, the Geysir Geothermal Area and Gullfoss waterfall. Thingvellir National Park is the only spot in the world where you can swim in between two continents! Snorkel or splash around in a crystal clear ravine located between the American and Eurasian tectonic plates, or waltz around a frozen volcanic lake in wintertime.
8. Admire the Snæfellsnes Peninsula
Affectionately known as miniature Iceland, the Snæfellsnes Peninsula really has all we've come to love about Iceland in one spot. Set aside a day to explore and you'll be rewarded with views of glacier-carved mountains, a volcano, moss-covered lava fields, craters, waterfalls, fishing villages, charming towns as well as rugged coastlines. A Hollywood favourite – Snæfellsnes has made appearances in Game of Thrones, Captain America and The Secret Life of Walter Mitty.
9. Go Whale-Watching
Iceland is one of the best places to whale watch in the world, if not the best! With Iceland's unique geography attracting 24 different species to its coastline, these magnificent creatures can be seen from most ports around the country.  The best time to see whales is between April and September and humpback, minke, orcas, fin or sperm whales are the most commonly seen.
10. Go Dog Sledding
What better way is there to experience the amazing landscape of Iceland than from the back of a dog sled? A thrilling experience you can partake in no matter the season, you will coast over beautiful meadows and pastures on dry land, or over glittering snowy plains in cooler seasons.
Check out some of Iceland's highlights on TripADeal's spectacular London, Iceland & the Northern Lights package here.