K

alimera! Greece is one of our go-to destinations for the Greatest of All Trips thanks to its unique blend of sun-kissed beauty, legendary mythology and time-worn ruins. By far, our favourite way to experience its magic is to island-hop through its sun-bleached archipelago.

Of Greece's 227 inhabited islands, there are a myriad of celebrated archaeological sites, luxurious bars and restaurants, charming villages and picture-perfect beaches to lose yourself in. You might be wondering, where does one even begin?

Luckily, we've carefully hand-picked a selection of must-visit islands, activities and tips to make a trip to this Mediterranean jewel the greatest.

Islands You Can't Miss

Santorini
Now, it wouldn't really be a trip to Greece without a visit to Santorini's colourful cliff faces. Sculpted by an ancient volcanic eruption – this imposing island really is the stuff of legend. A sight to behold and stop you in your tracks, Santorini is the perfect place for postcard mementos, but we recommend packing some trail mix for grazing on while you work your way up Santorini's steep hills.
Mykonos
Known as the cosmopolitan island, this glitzy spot overrun by glamazons is the go-to for opulent beachside bars and restaurants. You might even spot an A-lister or two strolling along its famously blanched hills, if not unwinding in style on one of the many pristine beaches. Who wouldn't want a Mykonos moment!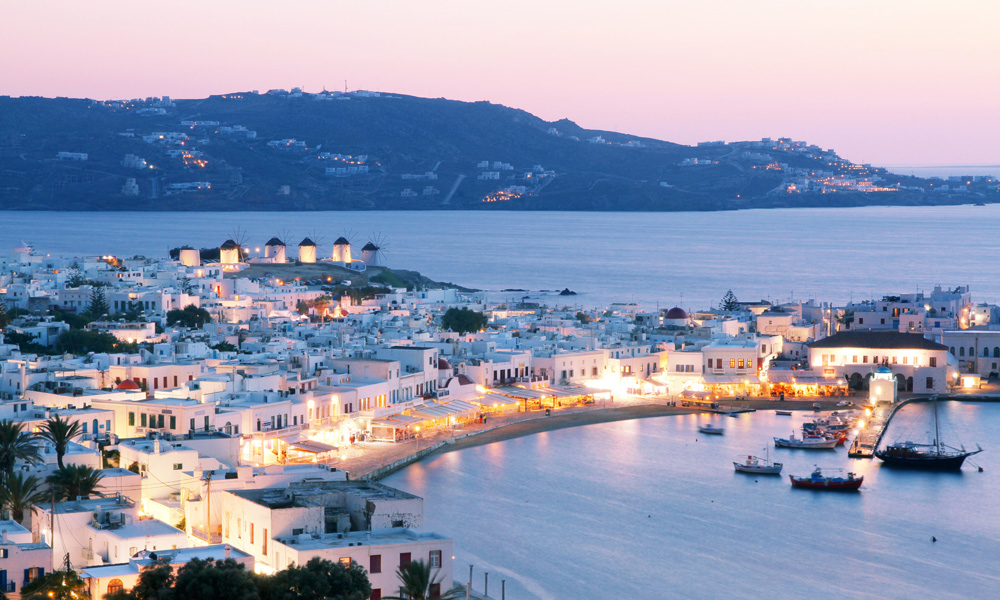 Paros
While it may not have the household recognition of its sister islands Mykonos and Santorini, Paros is most definitely worth a visit. A natural wonderland, this quiet and slower-paced islet is famous for its moon-like granite rock beach known as Kolymbithres. It also has a number of charming villages and rural towns to explore over a number of days, with beautiful Cycladian architecture to admire.
Delos
An entire island designated as an archaeological UNESCO World Heritage listed site, Delos is a must-visit for history buffs. Considered a sacred space in ancient times, Delos is overflowing with time-worn tributes to gods and goddesses from the Hellenistic period. Akin to an open air museum, strolling through the maze of relics on this uninhabited island will whisk you away to a different time and place altogether.
Must-Do Activities
Sail Your Way Around
There's no better way to get around the Greek Islands than via a megayacht or small-ship cruise. While they scream luxury and exclusivity, they're also just a boat-load of fun! Picture yourself sun-baking on the decks, cheersing over some Greek Ouzo and jumping overboard to swim in the warm, crystal-clear waters in between colourful port stops. Don't forget your boardies and bikinis!
Climb To The Monasteries of Meteora
Another UNESCO World Heritage-listed site, Meteora's towering rock formations give way to six active monasteries run by Eastern Orthodox monks. Perched atop towering natural pillars, the ancient boulders and panoramic views of the surrounding mountains more than make up for the hike to the top. Be sure to pack some running shoes, we hear the trek is rather steep!
Visit The Acropolis at the Parthenon
One of the most iconic landmarks in all of Greece, this age-old citadel was once home to kings and according to ancient legend, gods and goddesses. We recommend strolling through the marble temples and amphitheatre on a guided tour to soak in all of the ancient legends and feel history come alive. 
Enjoy Greece's Cafe Culture
Walking down the streets of Athens, you'll notice coffee shops sprinkled all over the city, overflowing with locals out onto the streets. One could call drinking coffee the national pastime, with Greeks getting coffee with friends on an almost daily occurrence. Forget your TV – head to a coffee shop to people-watch while you sip on a delicious Greek or Arabic coffee, topped off with a sweet koulourakia cookie.
Top Tips For Travel
Adopt A Mediterranean Diet
Eat and drink like a local! Sampling the flavourful and fresh cuisine is a huge part of the culture, and the Greeks sure do love to eat and feed others (it would be rude not to!). Our favourite veggie dishes include white bean soup, sesame-covered – bread rings and – miniature, honey-drenched doughnuts.
Get Used To Island Time
Unwind and slow down – it's a unanimous attitude around here that most things don't need to be done in a hurry. So try not to sweat the small stuff – like slow service in a restaurant – and embrace the slower pace of life instead. Rise slowly, languish in the sun, and spend as long as you want splashing around in the aquamarine waters.
Embrace Nature
While some of the Greek islands may be known as party hot spots, there's a whole other world of natural beauty just waiting to be explored. Don't be afraid to dabble in outdoor adventuring with some unforgettable hikes through nature in ranges like the Pindus Mountains. After all, that's where you'll find the most incredible views you only see on postcards!
Learn The Language
Or try to! Familiarising yourself with some popular phrases and questions in Greek will automatically give you some street cred with the locals, and inevitably spark off some interesting conversations. Bobby recommends practising with a language app like Duolingo. It's the easiest way to learn the basics and an awesome habit to get into before setting sail on your island-hopping odyssey.
Book Your Trip! 
Case in point: get yourself to Greece! Buy a Greek dictionary and book your next island-hopping cruise, pronto. We recommend booking your trip for the next Aussie winter to extend your summer and beat those winter blues.
And with the next Euro Summer fast approaching, TripADeal have made it as easy as possible to book the trip at the top of your bucket list. Just call our friendly travel experts, jump on our website or download the TripADeal app.
With plenty of tour and cruise experiences spanning the more popular to lesser-known islands in Greece, now's the time to book your Greatest of All Trips! Book an Arrive Early, Stay Behind or Stopover option and opa, you've got all the ingredients to make your holiday the greatest.