D

reaming about a trip to Japan in the near future? We are too! The ancient history, the beautiful culture, the warm and inviting people… oh, and the cuisine! Our stomachs are rumbling just thinking about it.

However, there's more to see, touch, taste and experience in Japan than many of us realise. Tokyo, Kyoto and Osaka are all household names, but they barely scratch the surface of what the nation responsible for sushi, samurais and Pokémon (gotta catch em all!) has to offer.

With that in mind, here are some of the essential places big and small worth adding to your itinerary.

Tokyo
A sprawling, modern metropolis home to almost 14 million people, Tokyo is the first port of call for most visitors. And what a spectacular port it is too! It's a place where the ancient and modern collide, where glittering skyscrapers tower over traditional cottages, and Shinto temples are sandwiched between multi-storey shopping malls. Some of our favourite areas to visit are the shiny Shibuya electronics shopping district, the hole-in-the-wall bars of Shinjuku, lush Yoyogi Park and the fashion mecca of Harajuku, serene Sensoji temple in Asakusa, and the quirky Odaiba district – home to a replica of the Statue of Liberty and a "life size" Gundam robot!
Kyoto
At the other end of the spectrum is Kyoto, a city that feels like you've stepped into a time warp. And that's exactly what makes it so captivating. The former imperial capital of Japan, it's home to a dizzying array of temples and shrines, not to mention beautifully preserved castles and geisha districts. Must-sees are the Kinkaku-ji Golden Pavilion, the beautiful Silver Pavilion, and Fushimi Inari, which was featured in the film 'Memoirs of a Geisha' and is recognisable for its vermilion-coloured torii gates. Kamishichiken and Higashiyama geisha districts are also worth exploring.
Aomori Prefecture
High in the Tohoku Region of Japan, at the tip of the main island of Honshu, Aomori is brimming with natural wonders. A high-speed trip aboard the JR East rail line will have you swap Tokyo for Aomori in no time. Hiking through scenic countryside in summer, exploring forests ablaze with colour in autumn, skiing amid 'snow monsters' in winter, and seeking out the perfect cherry blossom in spring – what's not to like? Aomori is host to some amazing festivals too, including Nebuta Matsuri, which lights up the night with beautifully detailed lanterns, and the impressive Inakadate rice harvest, where locals cut surprisingly detailed pictures into the rice paddies.
Kanazawa
All that glitters in Kanazawa is probably gold. About 99 per cent of Japan's gold leaf comes from the city, including that on the Golden Pavilion in Kyoto. The ancient city was thankfully spared by bombing during World War II too. As a result, it is home to striking temples and one of the best-preserved geisha districts in the country. The 17th century Kenrokuen Garden, one of the 'Three Great Gardens' of Japan, and Nagamachi Samurai District are also well worth a look.
Osaka
Nicknamed 'tenka no daidokoro', meaning 'the nation's kitchen', Osaka is a city worth biting into again and again. Takoyaki, which are delicious, hot dumplings filled with octopus; okonomiyaki, a popular savoury pancake lathered in mayonnaise; and yakitori chicken skewers grilled over hot coals are just a few of the dishes waiting to tempt you. Beyond food, Shinsaibashi shopping district is great if you're looking to pick up a bargain or ten. A worthwhile side trip from Osaka is Wakayama, home to the famed Kumano Kodo pilgrimage trail and its impressive shrines.
Aichi Prefecture
While not yet a household name, Aichi Prefecture is a region of surprising history and culture, with everything from museums that delve into the military might of fearsome samurai to the iconic Toyota Automobile Museum. Train lovers will also be in their element at the SCMAGLEV and Railway Park (a hands-on museum filled with multiple shinkansen bullet trains) in Nagoya. A visit to Inuyama Castle Town, a national treasure of traditional townhouses and mansions, is like stepping back in time to the Edo Period (1603-1867). For something a bit left of the field, head to the tiny island of Himakajima, known for its delicious, fresh octopus and blowfish.
Oita Prefecture
On the north west coast of Kyushu Island in Japan's south lies Oita Prefecture, a hidden gem renowned for its ancient pilgrimage trails, bubbling hot springs, hidden temples and sensational seafood plucked fresh from the sea. The sacred Kunisaki Trek, a multi-day pilgrimage trail dating from the 8th century, is a must-try if you're a lover of the outdoors. It's challenging but so rewarding. If relaxation is your style, then the hot spring resort of Beppu needs to be on your hitlist. There are onsen hot springs galore. For something unusual, try a hot sand bath – it's better than it sounds! Oita is easily accessible via an overnight ferry from Osaka.
Okinawa
A tropical island paradise with beautiful coral reefs and incredible diving, a delicious dining scene (try the sokisoba noodles!), and a unique identity influenced by both the Chinese and Japanese culture. That's Okinawa in a nutshell – but there's more to discover too. Some say the locals have even found the fountain of youth, with an extraordinary number of residents living over the age of 100. Is it a secret elixir or just healthy living? You'll have to visit to find out.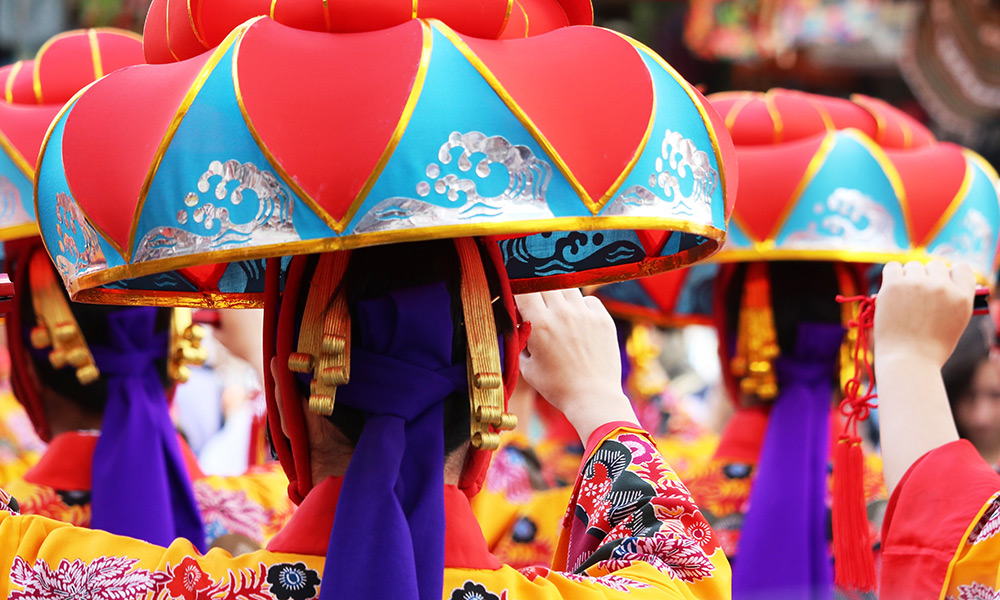 Beyond these incredible destinations, there's still so much more to see. Japan is bigger, more beautiful and more diverse than most people realise, and it's waiting for you to discover it.