B

yron Bay has long been a meeting place of people and cultures. Everyone from peace-loving hippies to celebs and barefoot executives have been drawn to its golden shores. However, its importance as a meeting place actually goes back much further.

With this week being NAIDOC week – an event which invites all Australians to embrace the First Nations history of our country – we thought it was an ideal time to highlight the importance of learning and preserving the indigenous culture of your local community.

The theme of NAIDOC week 2021 is "Heal Country!". It's a call for us all to preserve and protect the land, the waters, the sacred sites and the cultural heritage of the First Nations people who have occupied and cared for this continent for more than 65,000 years.

Our Byron Bay HQ falls within Bundjalung Country, an expansive region extending from Nerang in the north down to Grafton in the Clarence Valley, and a couple of hours out to the west.

According to Bundjalung elder Delta Kay, a highly-respected representative of the Arakwal People who have called Byron and surrounds home for at least 22,000 years, this area has long been a meeting place for these diverse groups. In fact, their word for the Byron township, Cavanbah (also spelled Gabanbaa), means 'meeting place' and also 'place of the thick forest'.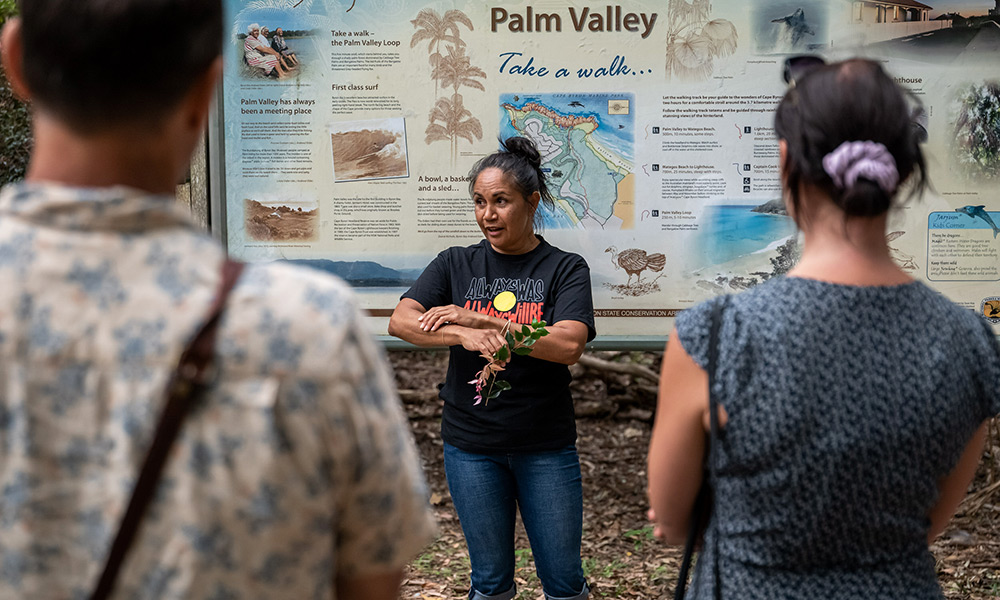 Though much of the knowledge has sadly been lost over the years, Arakwal community members including Delta and her family have risen to the challenge to rediscover, to preserve and to now share their ancient culture and story with visitors from around the world.
Delta offers visitors a chance to learn a new (though considerably older) side of Byron's story with Explore Byron Bay guided cultural walking tours of the area.
Members of the TripADeal team joined her on a walking tour of The Pass last year and it opened their eyes to the remarkable story of our community. The weather may not have been on their side, but the stories they learned were brought to life with deep passion and reverence.
They heard of the ingenious fish traps implemented at The Pass, visited a midden beside the boat ramp that was found to contain countless tools, weapons and animal remains, and also learned of the bounty of bush tucker that can be found just in the area around the carpark alone.
It was an inspiring and deeply moving experience our team cannot rate highly enough.
If you're in Byron Bay, whether local or visitor, it's a must-do experience.
Learn more at: https://explorebyronbay.com/trip/guided-aboriginal-walks/
All images credit Sam Clarke.