O

ne of the greatest things about travel is the opportunity to learn things along the way. The fun facts about architecture, history, culture or food you can rattle off to family and friends once you get home, or perhaps keep filed away for trivia.

To get your thirst for knowledge going, we've put together a selection of 12 random facts from some of our favourite destinations

Mauritius
Mark Twain said that Heaven was inspired by this tiny island nation which lies off the East coast of Africa. And those plump, flightless birds, the Dodo, probably agreed, with Mauritius being their only known sanctuary. Tour Mauritius to see that its cultivated land is 90% covered by sugarcane – a fact sure to keep the local dentists in practice.

Seychelles
This paradise on Earth and honeymoon destination of the likes of Prince William and Kate Middleton and Posh and David Beckham, was once the pirate capital of the world. It's believed that a treasure trove worth about $160,000 in the 18th century was buried by French pirate Olivier Levasseur, La Buse (the Buzzard), and remains undiscovered. Keep your eyes peeled for booty!

Oman
This is the land of forts and castles, with some 500 doted around the nation. And roundabouts in Muscat, the capital, put ours to shame with beautifully -rafted sculptures and landscaping you won't find slapped up on a budget reality TV show. Gawp, and go 'round again.

Israel
There are over 100 sushi restaurants in Tel Aviv, making it the city with the highest amount of sushi restaurants per capita after Tokyo and NYC.

Jordan
Popularised by an Indiana Jones film, the archaeological city of Petra in Jordan was only discovered in 1812 by a Swiss Explorer. At its height, 20-30,000 people lived there, but a major earthquake destroyed the main water source in 363 AD, and another soon after, forced the good people out.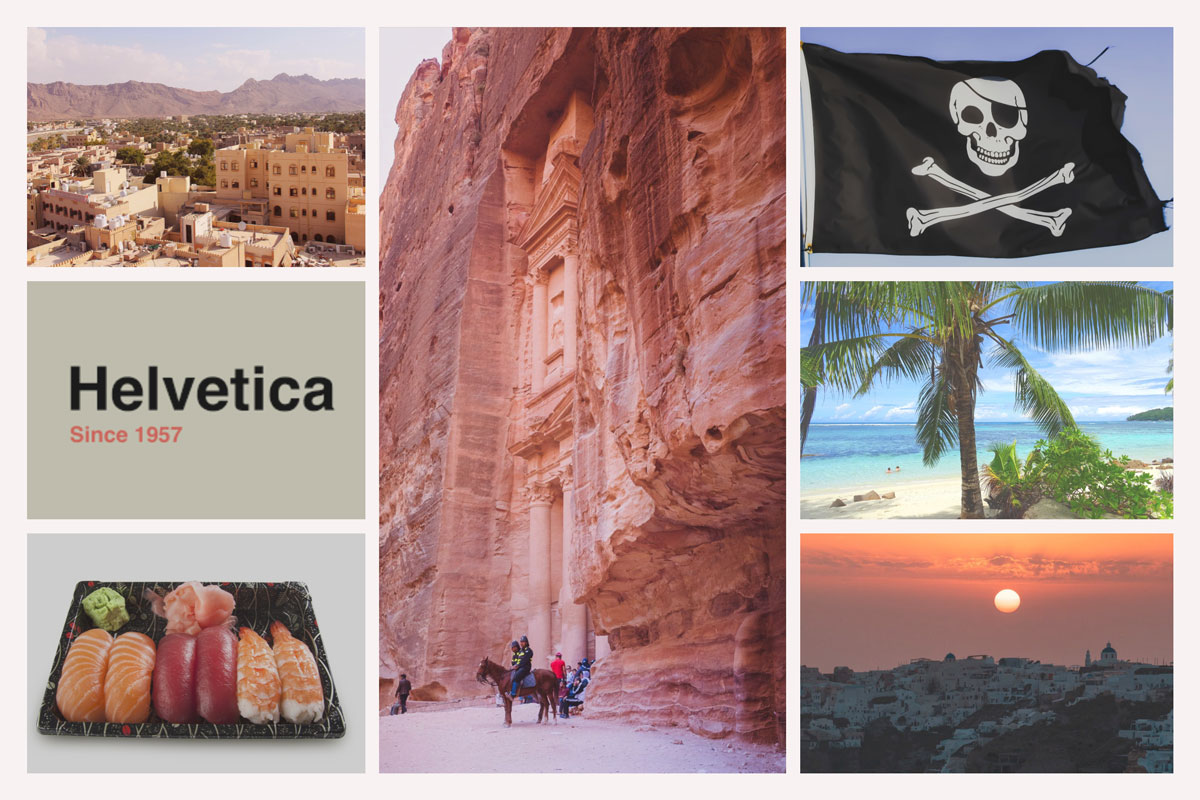 Cyprus
Haloumi lovers will love Cyprus – this salty cheese slab is everywhere. And, like Champagne is to the Champagne region of France, as far as the EU is concerned only Cypriot haloumi can actually be called haloumi.
Greece
Santorini is the main draw card here, with only 15,000 actual residents and yet 1.5 million visitors a year. Winelovers indulge away, the grapes on the island are grown sans irrigation – the vines get all their necessary hydration from the humid, moist air.
Croatia
This place seems to have been 'the next big destination' for the past 10 years, and it's still not too late to get your piece of it. The Sibenik button or botun is the perfect regional souvenir, and are either gold or silver filigree ornaments which have traditionally adorned male clothing but today are used in earring, necklace, rings, bracelets, pendants and brooch jewellery-making.
Better to see something once than to hear about it a thousand times – Asian Proverb
Italy
No trip to Venice is complete without making your way to the Campanile di San Marco, the bell tower that dominated the skyline. Rest pretty my lovelies – elevator is the only way to the top, and the reward is the best views of the city. Lake Como is also on the drawcard, and if we could throw in afternoon tea with George Clooney at his Villa Oleandra in Laglio, of course we would, you know.
Switzerland
It's easier to read in Switzerland – fact! When you choose fonts on your phone or laptop, you mightn't realise where the design comes from. The popular sans-serif Helvetica is Swiss-born, and often voted the most easily-read – so much so, that the United States is written in Helvetica on the side of NASA's spaceships.
France
Dijon's Church of Notre-Dame has a little owl on its north side, sculpted in the 1500s. Legend has it that if you touch it with your left hand while passing on your left hand side, your wish will come true. The stone is so shiny from centuries of people touching it for good luck. The owl itself, has become a motif for the city, so keep your eyes peeled as you take a city tour along the Parcours de la Chouette, The Owl's Trail.
England
More bucket-list icons than you can imagine in one place, and the inspiration for Monopoly, London won't disappoint. It's more than just the sights though. If you really tune in you can get a sense of centuries of history, and feel the presence of previous Kings and Queens, and both the famous and infamous, like Jack the Ripper.
Want to tick off an impressive list of bucket-list experiences? Browse our tours here.
Main Image: Nakhal Fort in the Al Batinah Region of Oman.