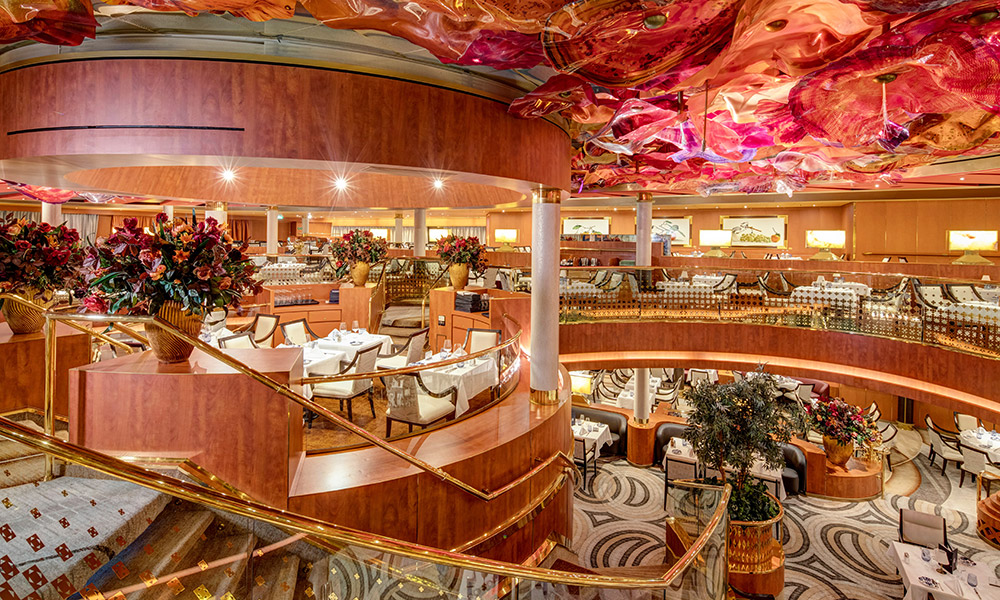 17 Day Alaska, Yellowstone & Rockies
Explore the wild side of the United States & Canada
Cruise Alaska's Inside Passage to Glacier Bay & more
Includes Return Qantas International Flights
There's wilderness… and then there's 'the wild'. This 17 day tour and cruise package visiting iconic Yellowstone, the world's first national park; the scenic Canadian Rockies and Alaska's incredible Inside Passage is your ticket to experience the wonders of the wild first hand. Add in return international flights on Qantas Airways and you have all the makings of an amazing trip.

Start this trip-of-a-lifetime with a bang as you journey through cowboy country and deep into the heart of Yellowstone, renowned for its diverse wildlife and geothermal wonders. Cross the border into Canada to visit the resort town of Banff, travel along the majestic Icefields Parkway, gaze in awe at Lake Louise - and more. As if that wasn't enough, you'll then enjoy a tour of Vancouver before embarking on a thrilling seven night cruise of Alaska's Inside Passage aboard a sophisticated Holland America Line ship. Stellar dining, memorable service, and artistic interiors are all signatures of the Holland America experience. Cruise to Alaska's remote capital of Juneau, renowned for its fresh seafood and nearby hiking; delve into the gold rush heritage of colourful Skagway; witness 'living ice' and wildlife of Glacier Bay, and more!

Includes return flights, seven nights accommodation on tour, and a seven night cruise.

Alternate itinerary visiting Sitka and Tracy Arm Fjord also available.
ITINERARY
Show All
Itinerary - 1
Itinerary - 2
Tour Inclusions
Show All
HIGHLIGHTS
Travel through Cowboy country of Idaho and Montana
Learn about the Frontier Days and American history
Experience the Big Sky Country of Montana
Explore Yellowstone, the world's first national park
Witness spouting geysers, bubbling mud pots, turquoise hot springs and prismatic pools
Visit Great Falls, Montana
Stay in Canmore in the beautiful Canadian Rockies
Travel along the jaw-dropping Icefields Parkway
Visit the Columbia Icefields Discovery Centre
Admire the stunning waters of Lake Louise
Journey through the scenic Canmore, Yoho, Glacier and Mount Revelstoke National Parks
Enjoy a sightseeing tour of Vancouver
Cruise to Juneau, Skagway, Glacier Bay, and Ketchikan
Enjoy a scenic cruise through Alaska's Icy Passage
Dock in Alaska's remote capital city of Juneau
Explore the gold rush town of Skagway
Dock in Ketchikan, the gateway to the Misty Fjords National Monument
Discover the wide tidewater glaciers of Glacier Bay

FLIGHTS
Return international flights ex SYD/MEL/BNE/*ADL/*PER

CRUISE
7 night Alaska Cruise with Holland America Line
Sail aboard the 'Zuiderdam', 'Nieuw', 'Noordam', 'Konningdam', or 'Volendam' ships

ACCOMMODATION
7 nights quality hotel accommodation on tour

DINING
Enjoy all meals while cruising

TOUR ESSENTIALS
National park fees
English-speaking tour leader
Airline and cruise taxes and surcharges

TRANSPORT
Transportation by private A/C coach

TRANSFERS
Day 8: Transfer to Vancouver cruise terminal
HIGHLIGHTS
Travel through Cowboy country of Idaho and Montana
Learn about the Frontier Days and American history
Experience the Big Sky Country of Montana
Explore Yellowstone, the world's first national park
Witness spouting geysers, bubbling mud pots, turquoise hot springs and prismatic pools
Visit Great Falls, Montana
Stay in Canmore in the beautiful Canadian Rockies
Travel along the jaw-dropping Icefields Parkway
Visit the Columbia Icefields Discovery Centre
Admire the stunning waters of Lake Louise
Journey through the scenic Canmore, Yoho, Glacier and Mount Revelstoke National Parks
Enjoy a sightseeing tour of Vancouver
Cruise to Sitka, Juneau, Tracy Arm Or Endicott Arm and Ketchikan
Enjoy a scenic cruise through Alaska's Icy Passage
Explore the postcard-worthy scenes of Sitka
Dock in Alaska's remote capital city of Juneau
See the active glaciers of the Tracy Arm or Endicott Arm Fjords
Dock in Ketchikan, the gateway to the Misty Fjords National Monument

FLIGHTS
Return international flights ex SYD/MEL/BNE/*ADL/*PER

CRUISE
7 night Alaska Cruise with Holland America
Sail aboard Holland America's 'Noordam' ship

ACCOMMODATION
7 nights quality hotel accommodation on tour

DINING
Enjoy all meals while cruising

TOUR ESSENTIALS
National park fees
English-speaking tour leader
Airline and cruise taxes and surcharges

TRANSPORT
Transportation by private A/C coach

TRANSFERS
Day 8: Transfer to Vancouver cruise terminal