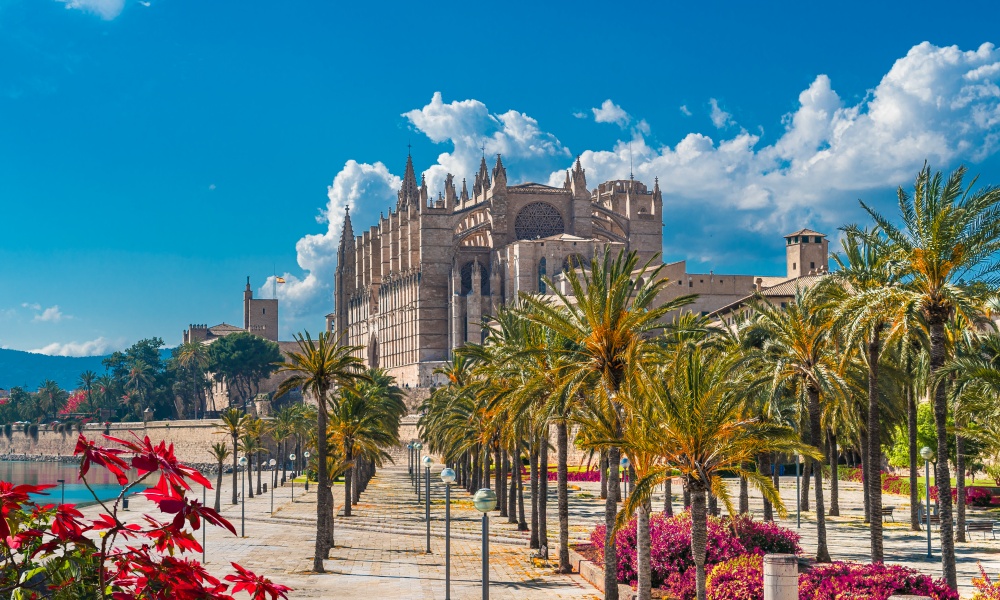 18 Day 2 for 1 Europe
An unforgettable tour of 8 bucket list countries
Visit Italy, France, Spain, Austria, Slovakia & more
Includes Return Flights & Mediterranean Cruise
There are few places that exceed the beauty, romance and allure of Europe. From the atmospheric 'City of a Hundred Spires' to the glittering, sapphire waters of the Mediterranean, the highlights of this diverse and culturally rich continent are waiting to be discovered. And now, you get to experience it all with a friend!

This phenomenal 18 day two-for-one trip is your ticket to an unforgettable journey. Travelling through eight countries by land and sea, you'll visit iconic destinations including Vienna, Rome, Bratislava, Venice, Barcelona and more! Stroll through the historic castle district of Prague, witness the mighty Colosseum and Trevi Fountain on a guided tour of Rome, explore the green capital city of Ljubljana, and admire the imperial palaces of historic Vienna. Not to overlook the Mediterranean, you'll embark on a seven night cruise onboard the 4.5-star MSC Grandiosa ship, visiting eclectic ports from Palermo in Sicily to Valletta in Malta and beyond. What else is included? Return flights, eight nights hotel accommodation, English speaking tour leader and guide, return airport transfers - and a whole lot more. Pick your travel buddy and let the countdown begin!

Alternate cruise itinerary visiting La Spezia, Cannes and Palma de Mallorca also available.
ITINERARY
Show All
Itinerary - 1
Itinerary - 2
Tour Inclusions
Show All
HIGHLIGHTS
Discover Italy, France, Spain, Malta, Czech Republic, Slovakia, Austria and Slovenia
Visit Prague, Vienna, Bratislava, Ljubljana, Venice and more
Explore Prague, the 'City of a Hundred Spires' on a guided tour
Wander through Prague's beautiful Hradčany Castle District
Discover Bratislava, the buzzing capital of Slovakia
Admire the Baroque streetscapes and imperial palaces of Vienna
Explore Ljubljana, Europe's greenest capital city
Marvel at the art and history in Italy's main cities
Enjoy a walking tour of Venice's city centre with a local guide
Stroll the romantic streets and canals of Venice
See the Colosseum and Trevi Fountain on a guided tour of Rome
Cruise the best of the Mediterranean
Dock in Palermo, Sicily's multicultural capital
Discover the exuberant port city of Marseille
Explore the charming, maze-like streets of Genoa
Gaze across the azure waters of Valletta, Malta's capital
Dock in Barcelona, home to iconic La Sagrada Familia

FLIGHTS
Return international flights (economy class) ex SYD/MEL/BNE

CRUISE
7 night MSC cruise through the Mediterranean
Sail aboard the fabulous 4.5 star 'MSC Grandiosa' ship
Receive MSC's 'Fantastica' cabin experience for Ocean View and Balcony Cabins

ACCOMMODATION
8 nights 4-star hotel accommodation

DINING
Enjoy 28 meals including all meals while cruising

TOUR ESSENTIALS
Parking and toll fees
English-speaking tour leader and guide
Airline and cruise taxes and surcharges
Guide Earphones (guided tours only)

TRANSPORT
Transportation by private A/C vehicles
Travel by water bus to Venice's city centre

TRANSFERS
Return airport and port transfers
HIGHLIGHTS
Discover Italy, France, Spain, Malta, Czech Republic, Slovakia, Austria and Slovenia
Visit Prague, Vienna, Bratislava, Ljubljana, Venice and more
Explore Prague, the 'City of a Hundred Spires' on a guided tour
Wander through Prague's beautiful Hradčany Castle District
Discover Bratislava, the buzzing capital of Slovakia
Admire the Baroque streetscapes and imperial palaces of Vienna
Explore Ljubljana, Europe's greenest capital city
Marvel at the art and history in Italy's main cities
Enjoy a walking tour of Venice's city centre with a local guide
Stroll the romantic streets and canals of Venice
See the Colosseum and Trevi Fountain on a guided tour of Rome
Cruise the best of the Mediterranean
Dock in Palma De Mallorca, celebrated for its medieval streets, jaw-dropping architecture, and ancient fortified walls
Explore the charming, maze-like streets of Genoa
Discover Cannes the jewel of the French Riviera
Dock in La Spezia gateway of Cinque Terre
Dock in Barcelona, home to iconic La Sagrada Familia

FLIGHTS
Return international flights (economy class) ex SYD/MEL/BNE

CRUISE
7 night MSC cruise through the Mediterranean
Sail aboard the fabulous 4.5 star 'MSC Grandiosa' ship
Receive MSC's 'Fantastica' cabin experience for Ocean View and Balcony Cabins

ACCOMMODATION
8 nights 4-star hotel accommodation

DINING
Enjoy 28 meals including all meals while cruising

TOUR ESSENTIALS
Parking and toll fees
English-speaking tour leader and guide
Airline and cruise taxes and surcharges
Guide Earphones (guided tours only)

TRANSPORT
Transportation by private A/C vehicles
Travel by water bus to Venice's city centre

TRANSFERS
Return airport and port transfers